Haifa Day
It was on 23rd September 1918 at First World War. Haifa is a medium city in Israel, on its northern part, at the seashore of eastern part of Mediterranean Sea. Then, the whole of this land was under the control of Ottoman Empire of Turkey. Turkey, Austria, Hungary and Germany were collectively known as Central Powers who fought unitedly against the Allies. Britain was a partner in Allies. Then, Britain decided to attack Ottoman Empire at Haifa city. In the Royal Indian Army which was involved in this attack, there were three divisions. They were Jodhpur Lancers, Mysore Lancers and Hyderabad forces. All these three were princely states in Our Nation at that time. Mysore Lancers cleared the rocky slopes of Mount Carmel, Jodhpur Lancers charged through the defile and riding over the enemy's machine guns, galloped into Haifa. Jodhpur Lancers were tasked to capture this position and Mysore Lancers were tasked to move around to attack Haifa from east and north. Three cavalry regiments of the three princely states i.e. Jodhpur, Mysore and  Hyderabad, escorted the prisoners of war.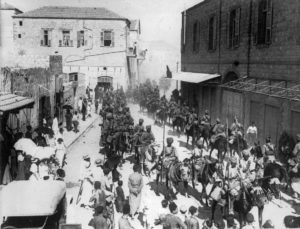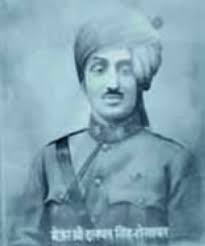 In this battle, the most important role was played by Colonel Thakur Dalpat Singh Shekhawat of Jodhpur Lancers, whose gallantry attack, courage, velour and war planing resulted in the capture of Haifa from Ottoman Empire. Hence, he was awarded with Military Cross, the then higher military award. Thus, Haifa was the first part to be liberated in the history of formation of the Nation called Israel. Thus, in the creation of Israel, these three princely states of our Nation played a major and pioneering role.
The municipality of Haifa city has gone ahead with its decision to immortalize the sacrifices made by our Nation's soldiers. The incidents of our soldiers valiant efforts in liberating Haifa are included in the school curricula as part of the history text books. Haifa Historical Society has done an extensive research on the role of our Nation's army in liberating Haifa. Residents of Israeli Haifa, celebrate 23 red September as Haifa day with a series of cultural programs during that week. Consulate General of Israel in Bengaluru paid tributes at the memorial of Mysore Lancers at Bengaluru, on the 96th year. Our Army commemorates September 23rd every year as Haifa Day, to pay its respects to our brave Cavalry Regiments that helped to liberate Haifa city in 1918, following a dashing cavalry action by 15th Imperial Service Cavalry Brigade. The centenary (100th year) celebrations were culminated with a grand function by our Army at New Delhi on 23rd September 2018. Prime Minister Narendra Modi, on his visit to Israel, visited Haifa Memorial and paid homage to our soldiers who fought in World War 1. Our Prime Minister Narendra Modi and Israeli Prime Minister Benjamin Netanyahu paid tributes to our brave soldiers who fought at Haifa. They attended the ceremony at Teen Murti Memorial at New Delhi  and on that occasion, Teen Murti Chowk was renamed as Teen Murti Haifa Chowk. The Chowk is 4 road junction at which a statue structure was erected soon after the the Haifa victory, depicting three soldiers on three sides of the structure. These three soldiers represent Jodhpur Lancers, Mysore Lancers and Hyderabad forces. In the same way Teen Murti Bhavan also constructed which later became the residence of our then Prime Minister.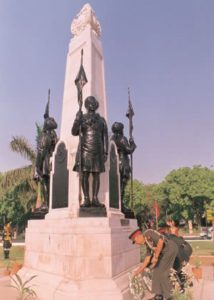 Thus in the liberation of Israel, the role played by our army is the turning point and altered the history at this area of land. Our soldiers' pioneering role is great and should be remembered with much respect.