About the Avinash Research
Academy of Vibrant National Arts and Scientific Heritage (AVINASH)  registered on 05/11/2007. It is a Nongovernmental Organisation.
Aims
To raise consciousness and knowledge in the National Arts and Science amongst the people of Bharat, especially students, elite and intellectuals,
To highlight our ancestor's achievements in Arts and Science,
To improve scientific temperament amongst students and promote research works,
To collect Sthala Purana of Temples,
To collect, analyse and publish public opinions on matters of National interest,
Any other activity of National interest promoted by Director, Joint Director, Deputy Director and Executive Member
 By these activities, it is aimed to raise the National Consciousness and patriotic fervour amongst the people of Bharat
Mode of operation
Giving lectures, conducting seminars at schools, colleges, and Universities
 Conducting or participating in hall meetings for the elite and intellectuals
Writing articles in journals and magazines
Publish thesis, research materials, articles, and books,
Reviewing and analyzing the research work and scientific activities of students involved in AVINASH
Dr M L Raja M.B., B.S., D.O.
Director, AVINASH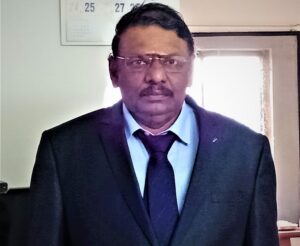 Dr.M.L.Raja, Director, AVINASH,
is an Eye Surgeon. He presented many papers in National and International Conferences on Vedic Sciences, Discrete Mathematics, and History. He is writing articles in Magazines and Journals in subjects like Physics, Astronomy, Medicine, Mathematics, Tamil Literature, and History. He authored books with titles Dr.Jagadish Chandra Bose, Aryabhatta's Date an Analytical Study, Swami Vivekananda and Modern Science, Astronomy, Rajendra Chola and Vande Matharam. He is addressing students at schools, colleges and Universities on subjects mentioned above along with achievements of defence forces of our Nation Bharat,
Contact Numbers +91 9443370129, +91 6382166863,
mail id  mlrsreekrishna@gmail.com
Dr R. Sankareswari,  M.B.,B.S.,M.D., (O & G), F.I.C.O.G., M.I.C.O.G.,
Deputy Director, AVINASH
She is Professor of Obstetrics and Gynaecology in Medical College. She is thus a teaching faculty for both M.B.B.S. and postgraduate (M.D.) students of Medicine. She presented papers in National and Zonal conferences of Obstetrics and Gynaecology on parturition and diseases of the female reproductive system. She is doing research work in these subjects and wrote many articles on these subjects which are published in various journals.